Regular price
Sale price
$5.00 USD
Unit price
per
Sale
Sold out
Roll out the humor with the official Duffel Blog logo sticker, the ultimate badge of honor for those who take their satire as seriously as a 5 AM formation. Slap this baby onto your gear and instantly promote it from civilian casual to Special Forces suave — because nothing screams "I read the funnies with my morning chow" quite like a decal that can survive a field exercise.
These stickers aren't just stickers; they're vinyl battle shields, tougher than your buddy's third retelling of his slightly embellished boot camp stories.
Here's the situation report on your new sticker:
Operation Opacity: Armed with high-opacity film, this sticker is less see-through than the excuses of the guy who says he could've been a SEAL.
Bubble Evac Protocol: Application is smoother than a drill sergeant's bald head, ensuring no bubbles stand between you and supreme stickiness.
Vinyl Valor: Crafted from the kind of durable vinyl that laughs in the face of weather, wear, and whatever you throw at it—short of a bayonet charge.
Density Dexterity: Boasting a 95µ density that's robust enough to make a battalion commander's voice crack with pride.
Whether you're reinforcing the look of your laptop or turning your bumper into a manifesto of military mirth, this sticker will pass inspection with flying colors. It's not just a decal; it's a declaration. It says, "I love my country, I support the troops, and I've got a sense of humor that could defuse a bomb."
So gear up, square away your sticker strategy, and let the world know that you've got the kind of style that could only come from the Duffel Blog — where laughter is the best armor.
Size guide
| | | |
| --- | --- | --- |
|   | HEIGHT (inches) | WIDTH (inches) |
| 3″×3″ | 3 | 3 |
| 4″×4″ | 4 | 4 |
| 5.5″×5.5″ | 5 ½ | 5 ½ |
Share
View full details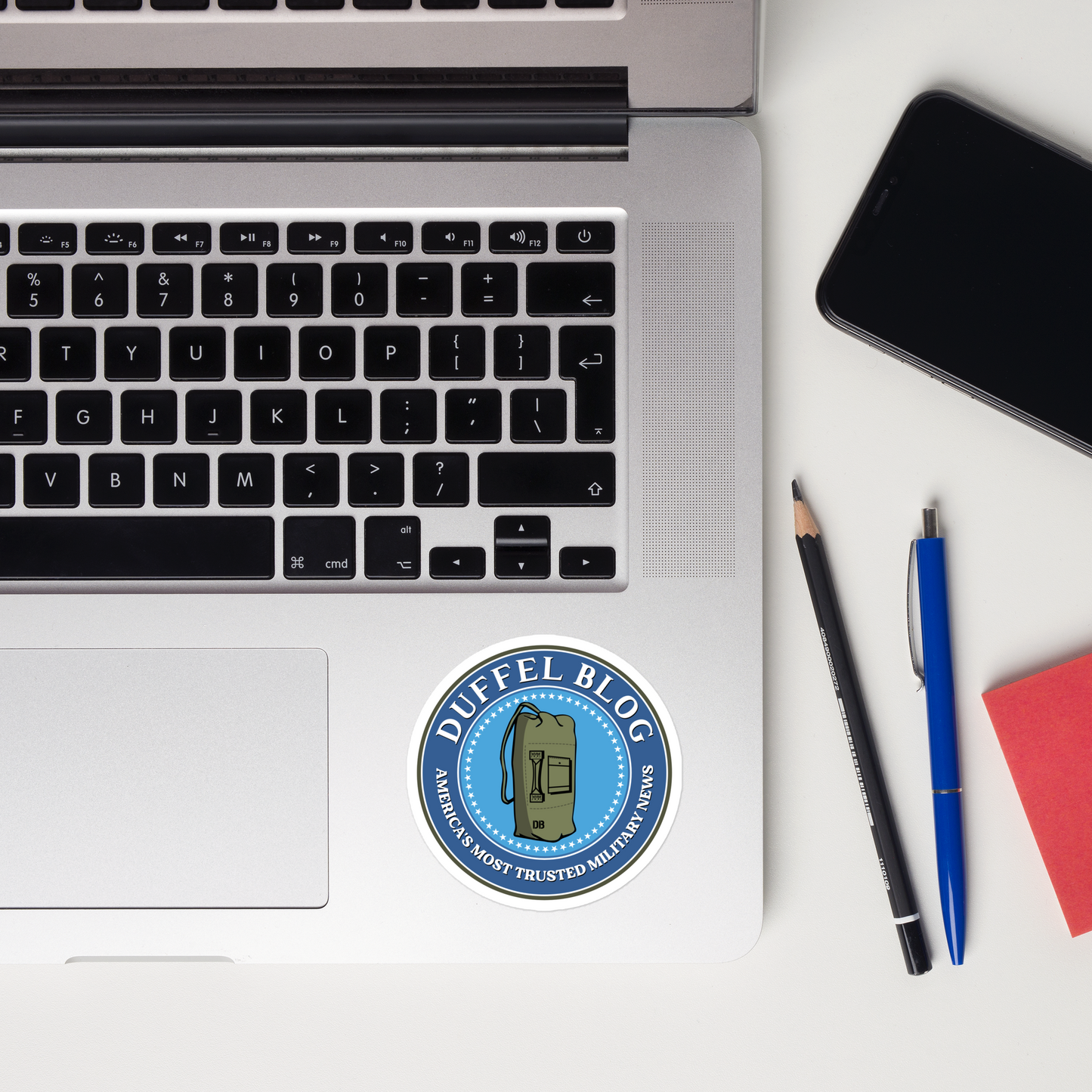 "They've made a lot of fun of me, and I've enjoyed every bit of it."
—James Mattis, former Secretary of Defense